Academy version 8


(Jewel Academy)
---
| | | |
| --- | --- | --- |
| | | Hover your mouse: As shown in the picture below, manually go inside a level (so you can see its grid of jewels) and STOP. Now start my Academy and hover your mouse on the blue Score area at the left panel of your window, exactly as the pink arrow down here is showing. The auto should recognize it, beep at you, snap your mouse away and start playing your chosen level over and over. Google Chrome or Torch, people! |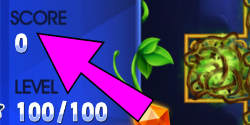 148 special in-game award badges: Jewel Academy has 148 extra internal non-rank badges, including the very difficult "Special 400 Badge". I'm willing to take one for the team and finish any/all of those 440 torturous levels for you manually... since I don't think anyone will possibly have an auto capable of such a thing. And I don't need any of your power-ups or gems to do it! The prices below guarantee 3 full stars in as many levels that you need, so let's get this done and those highly-coveted 148 in-game badges into your stash already. Email and let me know how many levels (old or new) that ya need 3-starred.
Slide the bar below for pricing!

| | | |
| --- | --- | --- |
| | | Google Chrome only: These newer Html5 games were specifically coded/tested with Google Chrome on multiple machines and all operating systems. If your auto is having trouble connecting with their game while hovering your mouse properly (or any issues afterward), please try every other web browser available in your arsenal. Recommended... in order: Torch, Internet Explorer, Windows 10's Edge, Firefox ESR, SeaMonkey. |
---
8

(5.10.2020) Continue Game and Okay! buttons moved again.
7

(3.10.2020) The Continue Game button was moved again, which stalled the auto there after Tuesday morning's maintenance.
6

(2.26.2020) The game got its Continue Game screen adjusted, which stalled the auto there after yesterday morning's maintenance.
5

(12.6.2018) Many reported a stall after each level. The game somehow thought you "lost focus" and needed a random click to remind them that we were still there. So this band-aid update simply clicks Continue Game, pauses briefly, then sends another click. It seems to have fixed the annoying issue.
4

(4.24.2018) The yellow Continue Game button was moved after this morning's maintenance.
3

(1.30.2018) After this morning's maintenance of adding +40 levels, they also decided to enlarge the font of the Restart button. So the auto was stalling there after every game.
2

(12.11.2017) Three upgrades. Color Bomb now zaps the most gems on your board (better chance for everything involved in this game). Auto also goes after L's and T's... didn't before (good for future challenge requirements). They are prioritized after the straight line 5-match but before the 4-match Arrow power-ups. Academy now plays all vine levels (hopefully).
1

(12.8.2017) Auto #128. Registration codes start with the CAPITAL letter C and the number Eight (C8). For now, this is a rank-climbing auto and I support level 2 only! So start up your game, get yourself to level two so you can see its grid of jewels and start Academy from that point. Does it play other levels? Yes, just about all of them. Any level that has an odd-numbered grid (most are 9x9) should be fine: 7x9, 5x5, 7x7, etc. It will not play even-numbered grids like level 1, 3 and 4 (those are 6x6). Further, it doesn't recognize the vine levels properly yet... but it should when I have time. Does it win levels? So far, quite a bit. How about 3 stars? I was shocked to see how many, yes. Especially since the intel is so chumpy at this time. It doesn't pursue wood, flowers, falling objects, weed growths or time bombs yet. It simply prioritizes 5-matches first, then 4-matches, then spending the color globe power-up, then spending arrows or bombs, then 3-matches as a last resort. If that beats your chosen level, great! It does nothing else until I have time to get back in there and do some tweaking. So don't email to say that it doesn't play level one (or a vine level) because I'll be pasting this write up for you to read, read, read. As written in the tip above, use GC or T if you want Academy to play Jewel Academy! If they don't work for you properly, try any other browser in your arsenal. Oh yeah: I have no idea which level up there is best for rank points. Once you reach level 18, switch to that one. Once you reach level 35, hit that one. If you find a better level for rank advancement, do tell.
Copyright © 2017-2020 BadgeWinners. Trademarks belong to their respective owners. All rights reserved.
pogo, auto, cheat, game, club, badge, token, badgehelp, wordzw, playbuddy, Need help getting tokens and club pogo badges, home to the famous cheats for online club games on Pogo, plus cheats, autos, tools, and helpers for Yahoo, Pogo, Hoyle, MSN, iWin, BigFish and Playsite
www.badgewinners.com
www.badgewinners.net