Booky version 82


(BINGO Blitz, Candy Crush Saga, Diamond Dash, Ruby Blast Adventures, Slotomania)
---
| | | |
| --- | --- | --- |
| | | Requesty: Requesty has died, but has been reborn as Booky. Why? Facebook's requests page has been useless for a year and most of their games now have a better built-in requests system when you first load. This has basically rendered Requesty useless, so Booky has taken over as my new Facebook mini-clicker auto helper. If you purchased Requesty in the past, Booky has replaced it and you are still registered. Same registration code, same password. If you want to access all of the old 74 versions of Requesty writeups, click here. But it's dead, get over it. |
| | | |
| --- | --- | --- |
| | | Google Chrome only: Since Firefox and Internet Explorer sometimes have altered graphics and are always slower in processing these Flash games, please use the Google Chrome web browser instead. This auto was programmed for only Chrome! If it works elsewhere, that's just a bonus for you. |
| | | |
| --- | --- | --- |
| | | Pausing: Use the Control key on your keyboard to stop Booky at any time. On some of these mini-clickers, the Shift key will temporarily pause the auto while you're holding it down. Once you let go, the auto will resume (example: Candy Crush's Click option). Read the below game sections for more information. |
---
82

(10.3.2014) By request, I added the Santamania slot machine in Slotomania. Note, in doing so, we now need to hover the mouse on the "SR" button at the top left corner of your game, rather than Farm Fortune's green Spin button. View the picture below in the Slotomania section.
81

(9.3.2014) They shuffled some colors around at the top of Candy Crush, which made the auto unable to find the game.
80

(8.20.2014) BINGO Blitz got a makeover in their options department, so the upper-left corner of the game changed and the auto couldn't find what it needed. Booky should recognize that area up there now. I also included Tombstone Slots and the newest Tomb of the Golden Monkey.
79

(5.30.2014) Both slot games (BINGO Blitz and Slotomania) now allow you to stop the reels. Why not? Much faster. Also added Sugar Slots (but not the bonus scatter game yet) in BINGO Blitz, instead of just Pets Blitz Slots. Slotomania's Farm Fortune is now 4x faster than before!
78

(4.22.2014) BINGO Blitz had a few buttons moved over one pixel. Not a big deal. Sped it up while I was in there... just a tad.
77

(3.10.2014) Couple of minor changes. Slotomania has a new, annoying popup after you lose the bonus round... asking if you want to spend $1 to try again. Thanks for letting me know about it, Edward. I removed Candy Crush's Help all friends option because it was broken, with the game being very moody in that department besides. And there's now a new Ignore Power-ups option for BINGO Blitz. This allows you to pick and choose when you want the auto to use or save them. By the way, with a little manual (fun) help by yourself, you can maximize your power-up potential and have a much better chance at completing those shadow cards. All you have to do, is slide your mouse on/off your game's browser window at the proper time. When your mouse is ON the window, everything plays as normal. Sliding OFF the window is a quick way to pause. So basically, once you have a power-up that's ready to spend, Booky will click it. Immediately move your mouse OFF the game, which temporarily pauses the auto. Now wait for the power-up meter to cool down completely. During this time, more numbers are being called. Booky is not daubing them yet because you don't have the mouse over the game. Once the power-up meter is ready to be charged, quickly move your mouse back on the game. The recent numbers that were just called will be daubed, which usually charges your meter instantly. This brings yet another power-up ready to be spent and the auto clicks it away. Now move your mouse back off the game and wait for the cool off. Repeat this wax-on, wax-off cycle until the very end. Manually helping in this manner gives you the most possible power-ups spent and you'll discover many more bingos for those HTGs.
76

(1.28.2014) Fixed broken Slotomania. The auto now also recognizes the recently-added Dreamworld levels in Candy Crush. Further, I installed the very popular BINGO Blitz game. So be sure to read that section below for instructions on how to get Booky started properly. And just a note, at the time of this writing, Ruby Blast has been yanked from Facebook for some reason. Not sure if and when it will be back.
75

(9.20.2013) As said in the above tip, Booky is now the old Requesty. If you purchased Requesty in the past, you now automatically own Booky. Please completely read the below game sections to understand how to start blazing properly. Possible (probable) future mini-clickers: Let's fish! and Requesty's old Mahjong Trails. If you have a request, I will listen... but don't expect anything. This project is truly backburner to me (based on the weekly HOG onslaught chore). Not every Facebook game can or should be done, besides.
---

BINGO Blitz
This one's probably the most fun/addicting bingo game on Facebook... and I don't even like bingo. The power-ups and thrill of nailing that final puzzle piece to complete your set (and move on) really makes it a unique experience. As far as I am aware, the auto hopefully covers every bingo city that your current level has unlocked. I also threw in the first slot machine in the list (Pets Blitz Slots), so feel free to adjust your Lines and Bet if you wish. To get started, navigate to the BINGO Blitz game using Chrome, manually click away all of the opening popups and stay there in the lobby! Now start my Booky and hover your mouse over the browser window. The auto should resize/move it to the upper-left corner of your desktop. I need to do this, in order to keep everyone's game the same (unstretched) so that all buttons and colors are recognized by the auto. Now, simply hover your mouse on that tan upper-left options button, as shown in the above picture. The auto should beep at you and snap your mouse away. This tells you that Booky has found your game properly and is ready for you to select your desired bingo city (or Pets Blitz Slots). Once you have entered the room, the auto should take over from there, always picking four cards until you run out of bingo credits. It does waves of daubing, over and over, while constantly checking for bingos or a fully-charged Powerup to spend. At any time, you can temporarily pause the auto by simply moving your mouse off of the browser window or holding down the Control key on your keyboard. Be sure that you are using the original circular red daubs or they might not be seen correctly and there won't be any bingos called. Oh, and add me as a friend so you can send me some of your extras! Make sure you are using the Google Chrome web browser for maximum results.
---

Candy Crush Saga
Prepare yourself for addiction. This one was written for myself, actually, over a year ago and has been tested since by dozens. It's not like any of my other autos, as it's primarily an audible helper, not a clicker. So turn up your speakers and listen... it informs you of any possible powerups on your board (and where) so you don't miss them! You have no idea how many you have been missing, and merging powerups is usually the key to beating most of these impossible levels. Your human eye (especially since you play too quickly) has been screwing you for far too long. To get started, kill all of the popups and navigate to the map. Start Booky and hover your mouse on the pink heart (lives remaining) at the top, as shown in the above picture. The auto will beep, snap your mouse to the upper left corner and is ready for you to manually select a level. Once you enter, Booky will start talking to you when it finds any powerups. Otherwise, it will simply display how many candy pieces it has found because there are no powerups on your board yet.
Make sure you download and save this file to your BadgeWinners folder before running it. I need to verify that my ten .wav (audio) files exist in the same folder, otherwise I will automatically download them for you. Now what exactly does L-red mean? It means you have 5 red candies that can be formed into an L-shape and create a red, wrapped, bomb powerup. But you have to do it yourself, and you'll get used to finding them very quickly... trust me. So now go look up on your board and find those 5 reds that form an L and grab yourself a wrapped powerup! Take a look at this picture. Each quadrant shows what the auto is trying to tell you, how to create them and the upper right corner powerup is your outcome. See that L-red action? Also note that Booky will prioritize which powerup to tell you if there are more than one. First, of course, the 5-match uber-powerful chocolate balls. Otherwise, the L's, T's then striped.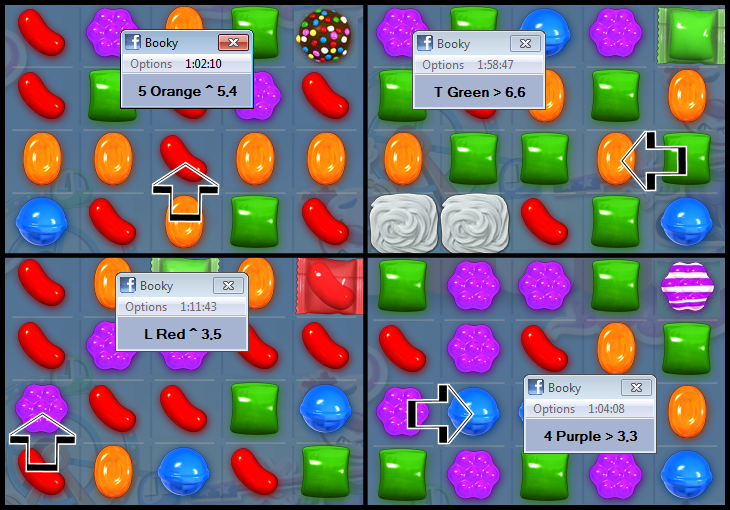 Now let's talk about Booky's Click option. This game is too damn strategic to start flipping out on the board and just matching anything you want. Not the case in 95% of the timed levels. Enable the Click and Booky will go ape poop, clicking anything it can find (prioritizing powerups). Most of these timed missions are wiped out very easily. However, some of them can use a little help. That's where the Shift key comes to play. If you see any +5 second matches or powerups that can be merged together, go for it! Just hold down the Shift key and the auto will temporarily pause, allowing you a chance to manually make it happen. Then simply let go of Shift and Booky will go right back to its frantic clicking.
In summary, this has been a long-term project still in the works. You may find a level that has a hole in the board which happens to match the same color as a candy piece and causes the auto to misquote a powerup. Just disregard... it's very rare. I do intend on making Booky more intelligent (as time permits) by looking ahead one move for even more powerup possibilities. But this is a backburner for me, so be very patient. Please do inform me if you find a level that is broken or any funky behavior. A detailed explanation and picture would certainly help as well. I also want to give a big hug to my 30+ testers this past year for their help. Funny, the site broke the auto two days ago and at least half of you came barking to get it fixed because you felt so naked. Now that's somethin! Make sure you are using the Google Chrome web browser for maximum results.
---
Diamond Dash
A very powerful mini-clicker here, capable of very high scores and winning every tournament. In fact, you might want to stop the auto with the Control key on your keyboard once you have reached the points you are looking for. Feel free to jump in with your mouse manually and click away power-ups or anything you like. Navigate to the Diamond Dash game, click away all the annoying popups and start a fresh game yourself. Now start my Booky and hover your mouse on your upper-right score (directly under that big blue Menu button), exactly as shown in the above picture. The auto should beep at you, snap your mouse away and start going crazy over there on your board. When the timer runs out and it's over, everything will stop until you start another game. Make sure you are using the Google Chrome web browser for maximum results.
---

Ruby Blast Adventures
Okay, this one was written primarily for their tournaments. As you progress in the game, things get really funky and you need strategy. So just fwacking the hell out of the screen just isn't gonna pan out. Navigate to your Ruby Blast game, cancel those dozen popups and click the Tournament tab. Now start Booky and hover your mouse on those gold coins at the upper-left of the game. The auto should beep and snap your mouse away, telling you it's time to get started. Now enter the tournament manually and Booky will completely explode your screen, including powerups. If you want Bonus Time!, hold down the Shift key on your keyboard to allow the rows to catch up. After you get your bonus seconds, let go and the auto will resume it's crazy clicking. Watch your score (and don't forget they throw you a huge bonus at the end), so be ready to kill your game with the Control key when you're getting too high of a score! Make sure you are using the Google Chrome web browser for maximum results.
---

Slotomania
Not really much to say about this one. It clicks Farm Fortune and Santamania's Spin! button over and over, as well as the bonus games and all of those annoying popup windows. Navigate to the Slotomania game. Get rid of any popup windows manually and STOP. Now start Booky and hover the mouse over your browser window. The auto should resize/move it to the upper-left corner of your desktop. I need to do this, in order to keep everyone's game the same (unstretched) so that all buttons and colors are recognized by the auto. Now, simply hover your mouse on that upper-left SR button, as shown in the above picture. The auto should beep at you and snap your mouse away, letting you know your game window has been found. It's time to manually choose which slot machine you wish to play, either Farm Fortune or Santamania. Booky should take right off at that point. Make sure you are using the Google Chrome web browser for maximum results.
Copyright © 2013-2014 BadgeWinners. Trademarks belong to their respective owners. All rights reserved.
pogo, auto, cheat, game, club, badge, token, badgehelp, wordzw, playbuddy, Need help getting tokens and club pogo badges, home to the famous cheats for online club games on Pogo, plus cheats, autos, tools, and helpers for Yahoo, Pogo, Hoyle, MSN, iWin, BigFish and Playsite
www.badgewinners.com
www.badgewinners.net