Jetty version 8


(Jet Set Solitaire)
---
| | | |
| --- | --- | --- |
| | | Hover your mouse: As shown in the picture below, manually go inside any level (so you can see your layout of cards) and STOP. Now start my Jetty and hover your mouse on the blue Score area at the very top of your window, exactly as the pink arrow down here is showing. The auto should recognize it, beep at you, snap your mouse away and start playing your chosen level over and over. Google Chrome or Torch, people! |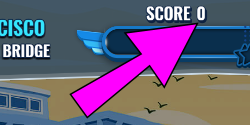 70 World Class Badges: Jet Set Solitaire has 70 extra internal non-rank golden badges for beating each city's levels with all 3 stars. There are quite a few extremely difficult levels in the game that you may have lost interest in accomplishing, such as New York's Apple and Cape Town's Airport. Or maybe you are just "stuck" on a certain level and need me to crush it so you can proceed onward. Either way, I'm willing to take one for the team and finish any/all of those 480 torturous levels for you manually... since I don't think anyone will possibly have an auto capable of such a thing. And I don't need any of your power-ups or gems to do it! The prices below guarantee 3 full stars in as many levels that you need, so let's get this done and those highly-coveted 70 in-game badges into your stash already. Email and let me know how many of those older levels still need 3-starred.
Slide the bar below for pricing!

| | | |
| --- | --- | --- |
| | | Google Chrome only: These newer Html5 games were specifically coded/tested with Google Chrome on multiple machines and all operating systems. If your auto is having trouble connecting with their game while hovering your mouse properly (or any issues afterward), please try every other web browser available in your arsenal. Recommended... in order: Torch, Internet Explorer, Windows 10's Edge, Firefox ESR, SeaMonkey. |
---
8

(4.3.2019) Now that they've finally fixed their broken off-screen map area and are sticking these new small World Tours in their own little sections, I was able to repair my World Class option. While in there, I included the new card back in the Limited Time Only tours so the auto can play those levels as well.
7

(9.11.2018) Los Angeles, Cusco ES, Houston.
6

(7.20.2018) Added the three new Extended Stay cities (Denver, Sydney, San Francisco). I'm also now available to 3-star any of your old difficult straggler levels. Just read the above "26 World Class Badges" tip if you are interested.
5

(5.9.2018) Added the three new Extended Stay cities (New Delhi, Kyoto, Bali).
4

(4.24.2018) The yellow Continue Game button was moved after this morning's maintenance.
3

(1.13.2018) Basically, there are a few rare levels in some of the cities that have a card or two so low in the layout it was causing somewhat of an endless loop before the animations settled and it finally kicked back in. It was the red "X" that enlarged and covered the draw or pile card down there. So I rearranged that part of the code to make the problem go away. Also, I changed some other areas for a few people that showed pictures of altered graphics and were stalling on the Play and Replay screens.
2

(12.30.2017) Kind of a nice little update here for ya! To start off, Jetty now covers all 20 cities (and their 5-9 levels), not just San Francisco. So feel free to choose any level from any city before starting the auto. Currently and on purpose, I am clicking your Replay button over and over until your mouse bleeds. I highly recommend the very first level of the game (Golden Gate Bridge in San Francisco) for rank and all present/future (hopefully) challenges. And don't forget to keep your Speed option at 90 or less to fully utilize the smoothness and flow that I have provided for you in that one. However, don't forget that the "boss level" challenges will require you to choose any city's final Airport level instead of the Golden Gate Bridge. Okay, now for the fun stuff. The new World Class check mark option was coded to win every single level in the game for your 20 in-game award Coach badges. It should attempt ten tries (or less, if it wins) before heading back to the map. At that point, it will randomly select any level that is not 3 stars yet and go for another ten passes until the city is beat and the game "flies you off" to the next one. Great, now you have those 20 Coaches badges. Now it's time to upgrade your levels to 3 stars for the World Class badges. Again, just let it cruise. It's gonna take a long time. This is something you will want to run whenever your computer is not being used, especially when you are asleep. Yes, there are some tough levels out there that Jetty really struggles with... so just set it and forget it. If you find one that is truly excruciating (such as New York's apple or Cusco's llama), simply pick another city and work on that one instead! Come back to those hard levels later, uncheck my World Class option and just have the auto Replay that sucker until the sun don't shine. Note that I will immediately spend any free First Class and Jet Wash power-ups that arrive during the game. The other two power-ups are worthless for our cause. Also note that every level (except Golden Gate Bridge) will not use your Speed option. The clicks are instantly fwacked at once so I hope your machine/browser/Html5 can hang with that. Will this thing beat every level? Yes. Will it beat them all with three stars? I don't know yet. Instead, I'm typing to you so everyone can get started with this v2 upgrade. But I am indeed... looking at a huge smorgasbord of recent Coach and World Class badges acquired during the testing of this creation.
1

(12.14.2017) Auto #129. Registration codes start with the CAPITAL letter C and the number Nine (C9). For now, this is a rank-climbing auto and plays in San Francisco only (any of its seven levels). Obviously, level 1 (Golden Gate Bridge) will do the fastest job. Hopefully, this level should also be adequate for any challenges: streaks, wins, 3-star wins, scoring points, removing cards, etc. But choose level 7 (Airport) instead for the Complete boss levels badges. I suggest keeping your Speed option at 90 or less since their game doesn't register/recognize all of the clicks properly... unless you don't care and just want to hammer it. Will there be other cities, its levels and all of their thousands of card locations added? I haven't thought that far, but I do know that would be an utter crap-load of tedious work. So far, Jetty can achieve 3 stars in each of San Fran's seven levels if you let them loop long enough. Please remember what I said: Google Chrome and 90 speed (or less) for the best results!
Copyright © 2017-2019 BadgeWinners. Trademarks belong to their respective owners. All rights reserved.
pogo, auto, cheat, game, club, badge, token, badgehelp, wordzw, playbuddy, Need help getting tokens and club pogo badges, home to the famous cheats for online club games on Pogo, plus cheats, autos, tools, and helpers for Yahoo, Pogo, Hoyle, MSN, iWin, BigFish and Playsite
www.badgewinners.com
www.badgewinners.net