---
| | | |
| --- | --- | --- |
| | | Hover your mouse: As shown in the picture below, navigate to the game site and manually start a fresh Snood game. Now start my Snoody and hover your mouse over the white letter S in Score at the upper-left corner of your window, exactly as the pink arrow in this picture is showing. The auto should recognize it, beep at you, snap your mouse away and start playing. |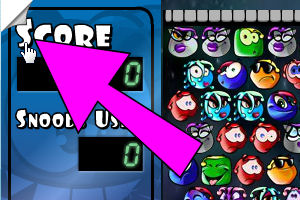 ---
11

(4.26.2015) Fixed the new Your Session has Timed Out stall by clicking the yellow Refresh button. The auto will show you the current number of refreshes in its title bar, such as "Snoody: 6".
10

(12.11.2012) Updated for Windows 8 compatibility.
9

(9.12.2012) There's a new game summary Play button, which stalled the auto. We also need to hover our mice as described in the above picture instead. This auto plays in all three browsers, yet Google Chrome seems to be the fastest and smoothest.
8

(11.3.2011) The You achieved rank Close button was moved south. Thanks for letting me know, Augie.
7

(10.25.2011) Again, this morning's maintenance brought some extra curls and swirls in the blue background behind all of the flash-embedded games, so the auto was having a hard time finding the game. If they keep changing it, I may have to resort to another approach. You might need to clear your Chrome's cache (click the upper-right wrench Tools button, then Tools, Clear browsing data, checkmark the top 4 boxes only, make sure the top pulldown reads "the beginning of time", then click the "Clear browsing data" button at the bottom) and your Flash cache (click here, then the "Delete all sites" button, Confirm) to force the new blue background to arrive.
6

(10.11.2011) This morning's extended maintenance brought a different blue background behind the game, so the auto couldn't see it. While I was in there, I coded all of these flash-embedded games to simply Put your mouse anywhere on game! to get started.
5

(10.9.2011) All of the snoods were modified. The ones that were the most severe were stalling the auto.
4

(7.14.2011) All three browsers are now acceptable (Google Chrome, Firefox, Internet Explorer). The graphics were slightly off in all three, depending on your operating system. But I still recommend using Chrome only, as it's the fastest and smoothest choice for Flash.
3

(7.13.2011) Fixed the moody Snoods Used counter and included a Games counter so we can track things a little better.
2

(7.13.2011) The Try Again button was getting stuck (pressed in) sometimes. The auto looks for either now.
1

(7.13.2011) For now, since Snood rank requires you to simply Use Snoods by shooting them out of the cannon, that's all this version does. You are not required to "win games" or anything else, so I decided to go ahead and release what I currently have to get you started on your badges. I will probably look in to making the auto more intelligent in the very near future, at least an effort for more Snoods used per game. To get Snoody going, hover your mouse in that upper-left corner of the game window (where the options are hiding). I recommend playing on Child difficulty since more Snoods can be shot per game. Even though there's a warning message at the end of the game stating that Child does not count; they are talking about the in-game levels and not rank. Yes, you can and will progress in rank playing on the easiest difficulty and I suggest it. Be sure to remember that the Control key on your keyboard pauses this auto!
Copyright © 2011-2015 BadgeWinners. Trademarks belong to their respective owners. All rights reserved.
pogo, auto, cheat, game, club, badge, token, badgehelp, wordzw, playbuddy, Need help getting tokens and club pogo badges, home to the famous cheats for online club games on Pogo, plus cheats, autos, tools, and helpers for Yahoo, Pogo, Hoyle, MSN, iWin, BigFish and Playsite
www.badgewinners.com
www.badgewinners.net