Tiley version 2


(Tumble Tiles)
---
| | | |
| --- | --- | --- |
| | | Hover your mouse: As shown in the picture below, get yourself to the opening main menu level selection screen and STOP. Now start my Tiley and hover your mouse on the yellow words Choose Level at the top of your window, exactly as the pink arrow down here is showing. The auto should recognize it, beep at you, snap your mouse away and request which level you wish to play (3, 4 or 10), as long as you already have it unlocked. Be sure to keep your mouse in the upper-left corner of your game at all times (such as over your remaining Moves) or Tiley will stop automatically. |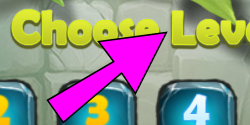 Final rank 30 badge service: I think we can all agree that Tumble Tiles is a horrible game that should be played by no one. I'm willing to take one for the team and finish any or all of those 138 torturous levels for you manually... each complete with the maximum three stars (since I don't have an auto quite yet capable of such a thing). Or maybe you've been stuck for weeks on a really difficult puzzle and just need one knocked out so you can finally proceed further in those upper levels by yourself? The prices below come with my 3 stars per level guarantee, so let's get this done and that highly-coveted Rank 30 badge into your album already. Email and let me know how many levels you have remaining that need a quick cleanup job.
Slide the bar below for pricing!

| | | |
| --- | --- | --- |
| | | Torch or Google Chrome only: Since Opera, Firefox and Internet Explorer could have altered graphics and are much slower in processing these Flash-embedded games, please use the Torch or Chrome web browser instead. If things change, I will be happy to include these other three... but this is just not the case right now. If any other browser works for you, consider it a bonus. |
---
2

(2.25.2017) Added Evil Masks challenges (choose level 4 when prompted at the level selection screen) and Ancient Symbols (level 10). Yeah, not all levels will be completed properly... but most are indeed. So set it and forget it, onward soldier. Simply manually pick yourself which level you need for your challenge: 3 (matches, powerups), 4 (evil masks), 10 (ancient symbols). Hey, do you Twitter? Follow me!
1

(10.5.2015) This first version of Tiley only plays level 3 over and over. And that's it, for now! So make sure you have level 3 unlocked and completely ready to go. If this isn't want you wanted, please delete the auto. You are only wasting your shareware time. So far, Tiley is strictly being written to complete challenges only! However, if you are interested in obtaining the three Tumble Tiles rank badges instead (all 138 levels finished with 3 stars each), I offer a completely separate MANUAL service for that. Please read the Final rank 30 badge service tip at the top of this web page. By the way, Tiley has replaced the Feudy auto. Since Family Feud was ripped away and obviously not coming back, anyone that purchased Feudy now owns Tiley instead. It uses the same registration code, hence the same password. Oh, and Tumble Tiles eventually has flash lag issues and tends to break a lot. Simply slide your Speed option down a bit or even try a different browser if their problem persists.
Copyright © 2015-2017 BadgeWinners. Trademarks belong to their respective owners. All rights reserved.
pogo, auto, cheat, game, club, badge, token, badgehelp, wordzw, playbuddy, Need help getting tokens and club pogo badges, home to the famous cheats for online club games on Pogo, plus cheats, autos, tools, and helpers for Yahoo, Pogo, Hoyle, MSN, iWin, BigFish and Playsite
www.badgewinners.com
www.badgewinners.net